Happy Birthday to Matthew today he is 3 years old.its amazing that its only been 3 years. Matthew as a little guy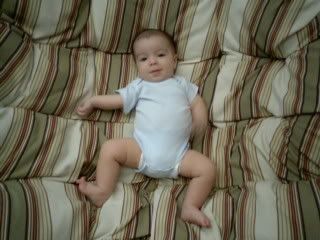 This was taken today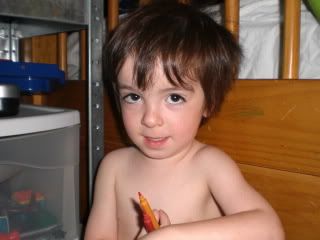 Well today's post might have you laughing or not,haha
So I got up and because Brian had a meeting this morning I took Riley to school. I got into the car and the radio was on Alice. The D.J Sarah was talking about how she thinks of her life as a movie, and how all day long she has a running narration going on in her head. The male D.J's couldn't believe it they didn't understand. I was sitting there going OMG that is what I do all day long. lol I totally talk to myself in my head, I think about all the things I would love to write down and tell people, then when I do go to write them down its not as funny as it was in my head. I have arguments with myself I go through things I would say to someone if I had the courage to say it. I know there are others out there just like me. Constantly thinking and talking to that little voice in your head.
So on the way home from dropping Riley off at school I was even narrating this in my head of what I was going to write in this blog. OMG am I sad or what. I am sure its not as interesting as it was in my head. haha
So if there are others out there please comment and tell me so I don't feel so retarded. here are some other things I do maybe you can relate
- If I am shopping and I find something I don't really need but want I carry it around with me and if by the time I get to the check out if I still am not sure if I want it I put it back.
-I have fake arguments in my head with my self
-I can't stand the feel of newspaper or even brown paper bags
-I have a real hard time throwing things away, it makes me so nervous sometimes I just can't do it. I know if it wasn't for my husband I would be like those pack rats you see on those cleaning tv shows.
-I have to sleep with at least a sheet on even if its like a million degrees at night
-I love to read but I can't spell worth a crap if it wasn't for spell check I would be doomed. oh there are so many other things I can't even remember right now.