Where the hell Have I been? I haven't blogged in over a month. I don't get a whole lot of time to sit down and write anymore its sort of depressing and probably why I have been in such a funk lately. I am feeling pretty Jadded against the world lately. I don't know why I care so much what everybody else does or has and I compare myself to others way to often. I need a better measuring stick. I do realize that there will always be some one better off then me and I also know that there are many others that are worse off then me and wish they could live my life. I don't have it that hard I am a very lucky person and I am thankful everyday but I can't help my feeling that float around in my head.
Well enough of the pity party. I have been up to some good. I sold some purses and a couple wrist pouches with matching key chains and I sold two Nursing covers and I have orders for two more. I made and sold and very cute cupcake apron,that I made this weekend.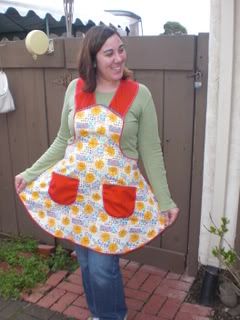 I actually made two aprons this weekend while hanging out with my mom. She decided to some up Saturday and stay till Monday I was so excited, and Happy for her to come stay with me. my mom is my best friend I am the luckiest daughter. The kids are doing great, testing me for sure. Which most days I fail horrible. I need to exercise better control of my yelling. I never ever thought I would grow up and become a yeller but 3 kids will do that to you. Its a struggle everyday to not just throw my hands up in the air and yell I quit! but this is one job you just can't quit. lol Well I better sign off and get my house in order.